Location
The Leonard E Parker Center for Gravitation, Cosmology and Astrophysics is on the fourth floor of the Kenwood Interdisciplinary Research Center (KIRC) at 3135 North Maryland Ave (circled in the map at the right).
Inclusivity Resources
See the map on the right for locations of Gender Inclusive Restrooms on the UWM campus.
Getting to campus
By car:
Scenic Lake Route From All Directions: From I-43 or I-94 near Downtown, take I-794 east to Lakefront exit. Proceed 3 miles north along the lake on Lincoln Memorial Dr. to the top of the hill, where Lincoln Memorial Dr. becomes E. Kenwood Blvd. and intersects with N. Lake Dr. Proceed straight (west) on Kenwood 6 blocks and park in Students' Union lot. KIRC is several blocks further west.
From the North: Take I-43 south to the Capitol Dr. East exit. Proceed east on Capitol to N. Downer Ave., then south (right) on Downer five blocks to campus.
Parking
On-campus parking is often scarce when classes are in session. Some curb parking in the neighborhood surrounding UWM is available, with restrictions.
Circled in pink in the map to the right is the lot right outside our building (Kenwood Interdisciplinary Research Center, KIRC). This is a pre-pay lot. You will see kiosks that will require cash or a debit/credit card to pay for total hours requested. The code for this lot (which posted) is 59006. This along with your license plate number and method of payment are all you need at the kiosk.
If this lot is full, you can then park in the sheltered lot at the Union. The Union is just east of our building on Kenwood Ave. Signs on Kenwood will direct you where to enter the parking garage. At the entrance, you will receive a parking stub. You then pay at the drive through exit booth upon leaving.
Alternate Transportation Options:
You can find information on alternate transportation options at the Parking and Transit web site. In particular, UWM is on the Green, Gold, Red, 21, 22, 30/30X,, 40U, 44U, 49U, and 60 lines of the Milwaukee County Transit System. You can get route and schedule information via Google.
Preferred Lodging for Guests of the CGCA
UWM uses several hotels, with negotiated guest room rates. Guests of the CGCA who will receive reimbursement for lodging must stay at one of these hotels: your host must make the necessary arrangments in consultation with you.
For other visitors, the CGCA is easily accessible from the following hotels.
Links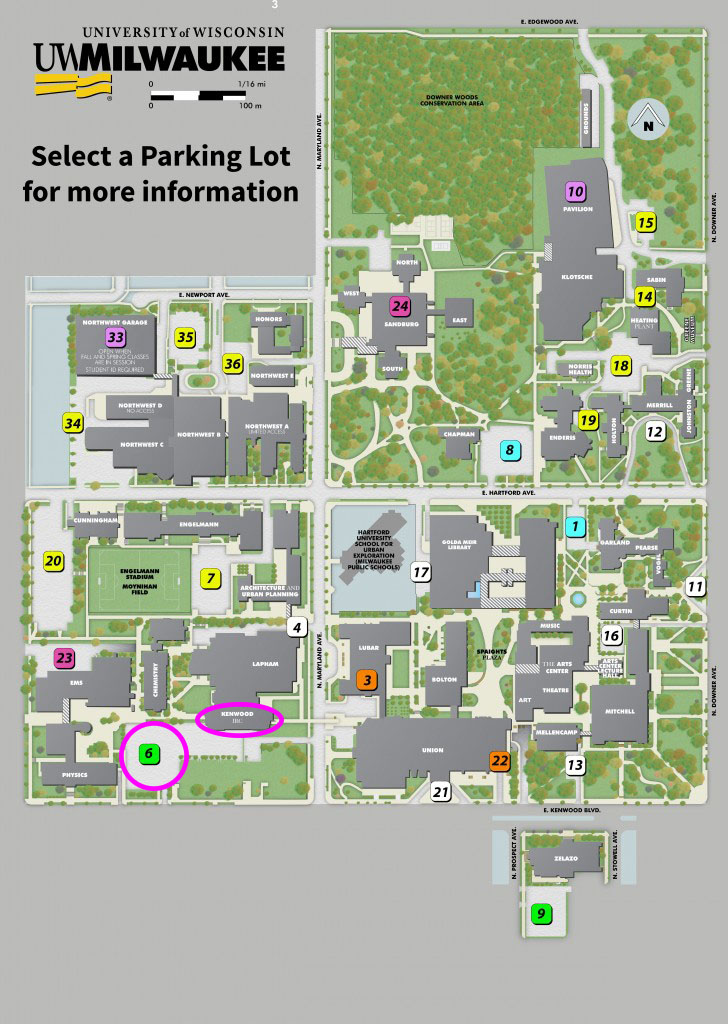 UWM Parking Map
Gender Inclusive Restrooms on the UWM campus.